Introducing VoidScan 2.0
The FIRST and ONLY transparent wireless scanner protective card. Now redesigned with new and improved features.
Make your own statement while protecting your credit and debit cards with the most modern RFID Jamming Card.  
• Now 30% Slimmer and More Compact
• Increased RFID Blocking Radius
• Upgraded Skeleton Circuitry Design
Buy Now
VoidScan 2.0 - The New 2023 Skeletal RFID Protection
Simply Slip VoidScan in Your Wallet
Place the VoidScan card in the middle of your wallet to protect all RFID-enabled cards in wallets up to 4.25cm (1.7in) thick!
Contactless payment can still be used as normal - just ensure VoidScan is held at least 16cm (6.3in) away when making tap payments.
Supported by 4700+ Backers on Kickstarter
Our first launch reached 110% of the funding goal on Kickstarter, and we have shipped to over 78 countries worldwide.
Our second launch with VoidScan 2.0 successfully reached over 890% of our funding goal.
Get Yours Now
Protection for YOUR Wallet.
Simply place this card in your wallet to protect your personal data.
Get rid of clumsy RFID sleeves and clunky RFID wallets.
Utilizing embedded circuitry, the VoidScan card actively prevents unauthorized wireless scans from stealing your credit & debit card information.
Protect your wallet now
VoidScan in Action
With the same size as any standard credit card or debit card, VoidScan is a convenient RFID protector. All you do is slip it into your wallet, and it will scramble electromagnetic waves to keep your data safe from high-tech thieves.  
Unlike RFID wallets or RFID sleeves, VoidScan fits right inside the wallet you already own. This is the simplest, most affordable RFID blocking option there is.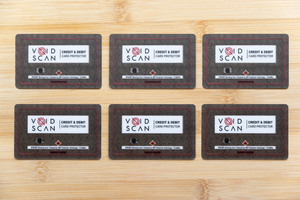 6X VoidScan 2.0 RFID Protection Card
Sale price Price $68.00 Regular price $100.00
Why do I need VoidScan?
Our lives are becoming easier as contactless card payments become even more popular, but the risk of theft is growing.
RFID technology is the solution you need to prevent thieves from accessing your credit or debit card using scanning devices that anyone can buy online.
RFID combined with Near Field Communication (NFC) jamming technology, is the defense strategy that we have built into VoidScan in order to keep you safe from identity theft and data skimming once and for all!