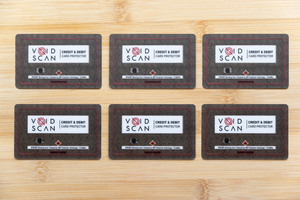 6X VoidScan 2.0 RFID Protection Card
Sale price Price $68.00 Regular price $100.00
VoidScan is a convenient RFID protector. All you do is slip it into your wallet, and it will scramble electromagnetic waves to keep your data safe from high-tech thieves. Unlike RFID wallets or RFID sleeves, VoidScan fits right inside the wallet you already own. This is the simplest, most affordable RFID blocking option there is.
This is for 6 VoidScan 2.0 Cards.
Set of 6 cards! Enough for you, your friends and family!